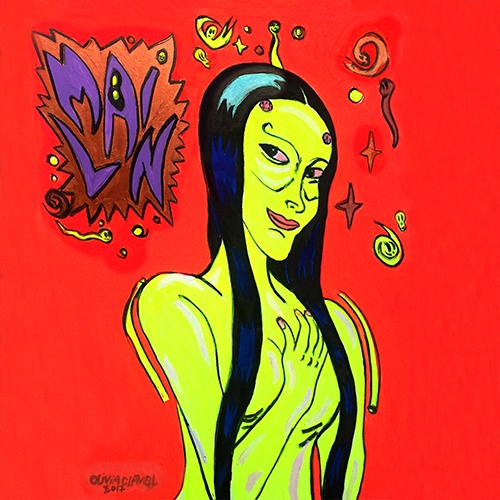 Artwork by Olivia Clavel
#05 NAIL POLISH
I'm hearing voices inside
I wish I could show what it is like
Try to push me into the fight
They tell me "go scratch and bite!"
But I'm just as weak as a snail
Need some fresh air to inhale
Grab the tiger by the tail
Never let him go down to hell
They say: "you're such a disgrace!
Look at your body your face
Remember what mama says"
I don't know what mama says !
They say I am my own god
"You gotta untangle your knots"
And when it's over then what?
Had something to say but forgot
CHORUS
Legs bust arm get get it
On your knees's bone get get it
got to keep the crown get get it
Bitches going down get get it

Eat and fail get get it
get back on the rails get get it
get back on the rails get get it

Nail Polish


I eat more than I can contain
Belly's growing not the brain
Don't give a shit bout sugarcane
I eat potatoes and chicken
So in the middle of night
I can come and turn on the light
All this food shining so bright
Look at this cute zucchini pie !
Can't touch this!
CHORUS
Look at the cookies I made
Blue berries and chocolate
You kind of missed the whole game
But are you regretting? Missed missed the best thing
Look at those cookies I said
Blue tasty and delicate
See we could try to fix it again
But my baths are too hot -make me wanna throw up !
CHORUS